We're thrilled to have a new landscape designer join our team this year. David Burton's background, passion and design knowledge makes him the perfect fit for DiStefano Landscaping. We sat down to talk him about his experience, what gets him excited about landscape design and more.
How David Got Interested In Landscaping
"I grew up doing a lot of gardening with my grandmother," David says. "She had extensive gardens at her house that were actually designed by my grandfather. My grandfather was a landscaper … he used landscaping to help get his three girls through college."
David attended Virginia Tech and got his degree in horticulture. "A part of the Virginia Tech curriculum is they make available a lot of different garden tours, so we got to go up and down the east coast touring gardens," he says. " I also got to go to Italy, England, Ireland and Wales to see different gardens so that was a great inspiration. I continue to pull from that."
His Journey To DiStefano
David has had several jobs before joining us, all relating to landscape design in their own way. He managed a garden nursery in Virginia right after college, and then did landscape design in New Jersey. David says it was working for a landscape architect outside of Princeton, New Jersey, that helped shape his design aesthetic.
He moved to Vermont from New Jersey where he worked at Trowel Trades and then started his own landscape design company, Ginkgo Design. After several successful years with his own company, David decided to join our team here at DiStefano (and we couldn't be more thrilled).
David's Design Aesthetic
David's design philosophy is "form follows function." Essentially, he figures out how the client wants to use the space first and lets that dictate everything else. "You could have an amazing, beautiful landscape and if it's not functional or useable then no one ever interacts with it," says David. "If there's a landscape that doesn't have a function you look at it and scratch your head, knowing there's something off – something that doesn't jive."
One of David's design pet peeves is a walkway with curvy edges. "If someone wants a curve in their front walkway, that's fine, but why? Maybe it's a feature – a boulder – it's something that makes sense to curve, rather than just curve for the sake of a curve. These things are really key in how I approach design," he says.
David thinks an outdoor landscape really needs to feel like an extension of the home. "You want to – as much as possible – pull the materials of the house into the landscape. You want that repetition … you don't want it to look like it was dropped out of outer space. So that's really important," he says.
David's Favorite Design Project
Last year with Ginkgo Design David did a large project in Colchester that incorporated a lot of different features. There were three water features, extensive lighting, a metal gate David was able to design, as well as a lot of planting.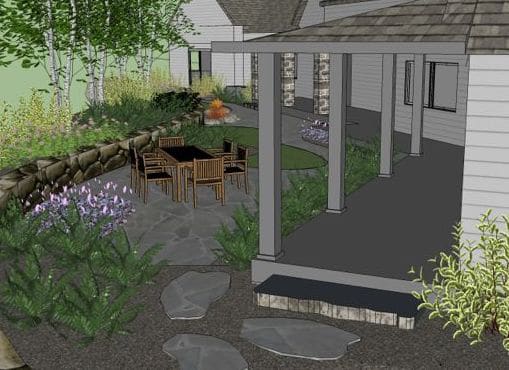 David got to try a new approach to planting in this project that he says is very trendy right now, which he learned about from Claudia West. "It's all about plant communities. The concept is planting in a community so that it mimics nature and by mimicking nature it cuts back on maintenance," David explains. "The idea is that the soil surface is so covered with plant material, it keeps the sun off of the soil and you don't have weed seed germination …"
He explains that certain plants, like ornamental grasses, don't come into their full form until the summer. So the areas around those plants in the early season are exposed to sun, making it easy for weed seeds to germinate. With this planting method, you'd fill in the bed with groundcovers around the grasses so weeds don't get the chance to grow. " The idea is to use layers; so you're using a groundcover layer for weed seed control, a structural layer that has a deeper root system for erosion control, and then these seasonal layers of interest …" explains David.
David says this way of planting was fun and challenging for him as a designer, which is one of the reasons he enjoyed this project so much.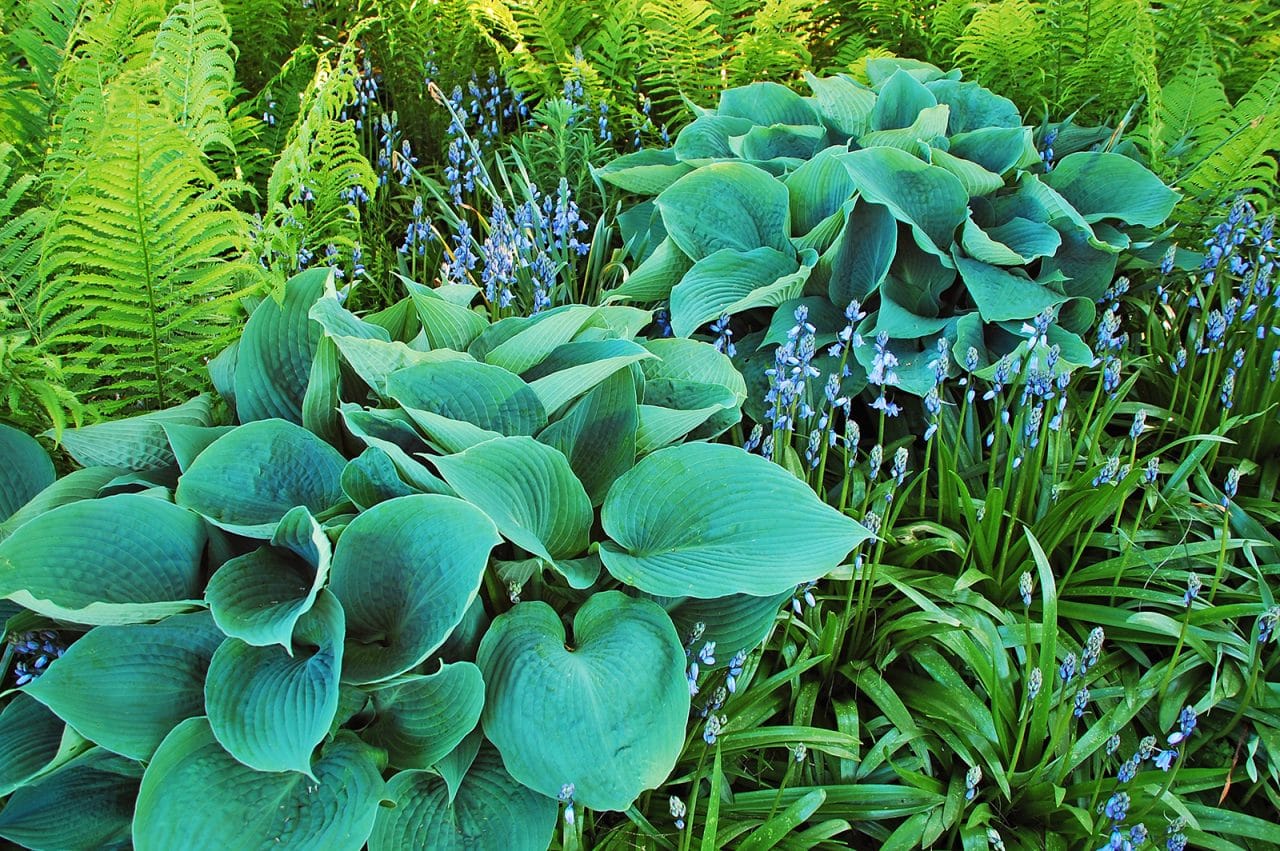 Gardening At Home
Although David is an avid gardener, he says with four small children at home there isn't much time to landscape. He does have a wildflower meadow on his property that features a variety of native and pollinator-friendly varieties such as milkweed, goldenrod, red twig and more.
David's Favorite Tree: Ginkgo (not surprising!)
David's Favorite Shrub: Fothergilla, because of the gorgeous evolution of color that happens in the fall.
David's Favorite Perennial: Any type of shade plant. "I really like shade gardening." He says. "The house I grew up in had a lot of shade so it was always a struggle to get things to grow and thrive. So shade gardening has always been a passion for me and I think there are so many different species and plants that people don't realize can survive in shade."
David is getting ready for the spring season with DiStefano Landscaping and is enthusiastic about working with our amazing clients. "I'm excited for the opportunity to work on some interesting projects and develop a nice client base and work with them on fun projects," he says.
We're excited too, David. Welcome!