Top Notch Resort
With a tight completion deadline, good communication between the project management company, architects and our skilled installation crew made the addition and renovation of this resort's landscape a success.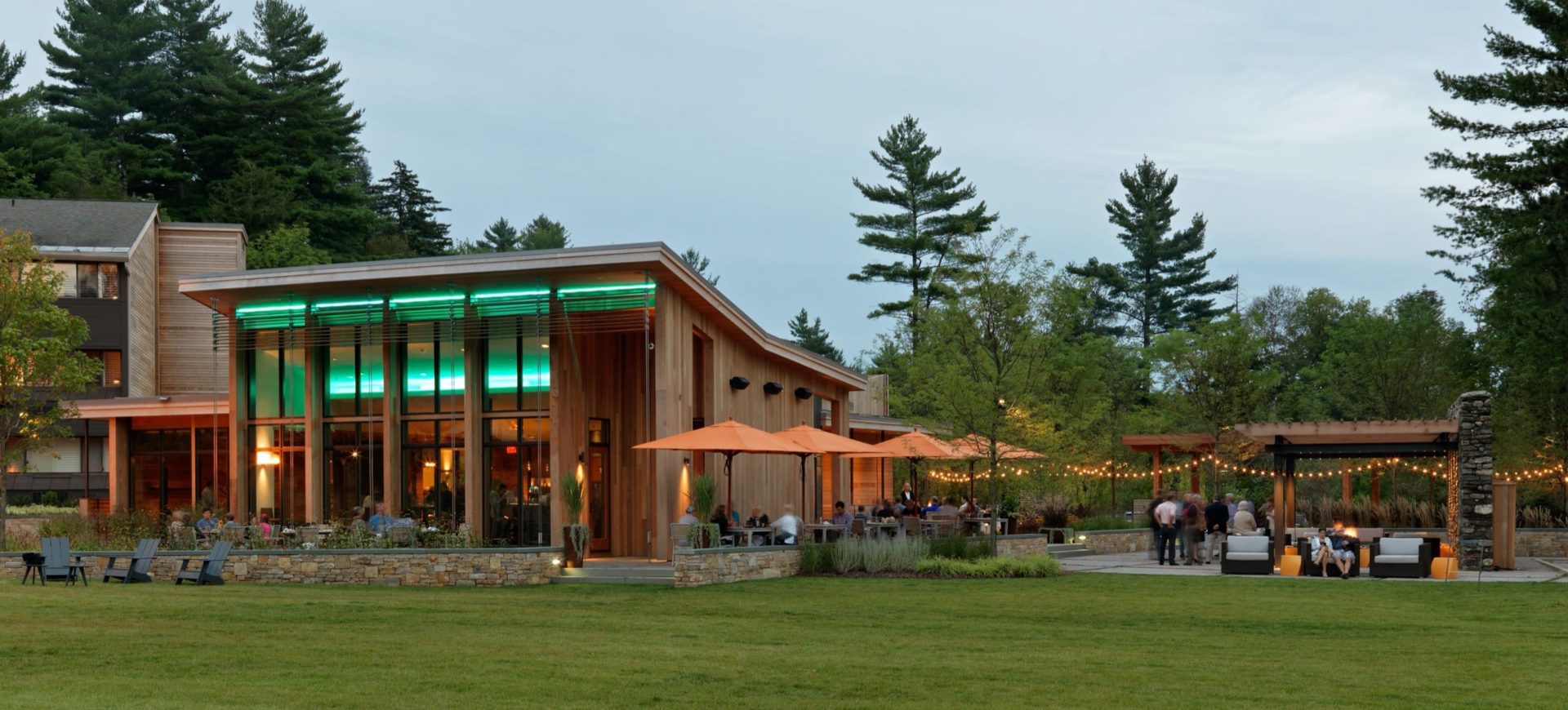 This Resort and Spa in northern Vermont just completed a large addition and renovations to the structure. This consisted of an addition to the existing footprint with a brand new lobby, bar/restaurant, and a new entry way with porte cochere. New parking lots, a wedding/event lawn and a pavilion were also constructed. The landscaping portion of this project included several expansive terraces, stonewalls, stone columns, outdoor living areas, a fire pit, pergola and bocce court.
The project had a very tight deadline of June 1st. The winter prior to our start date was extremely long and delayed the spring start, which made for an extremely tight completion timeline. Our crew had only 6 weeks to complete our scope of work, which was to involve over 3,000 hours of labor. With many other trades under the same deadline on site, it made for quite a dance around the site. Tight coordination and good communication amongst all the subs was critical for everyone to succeed.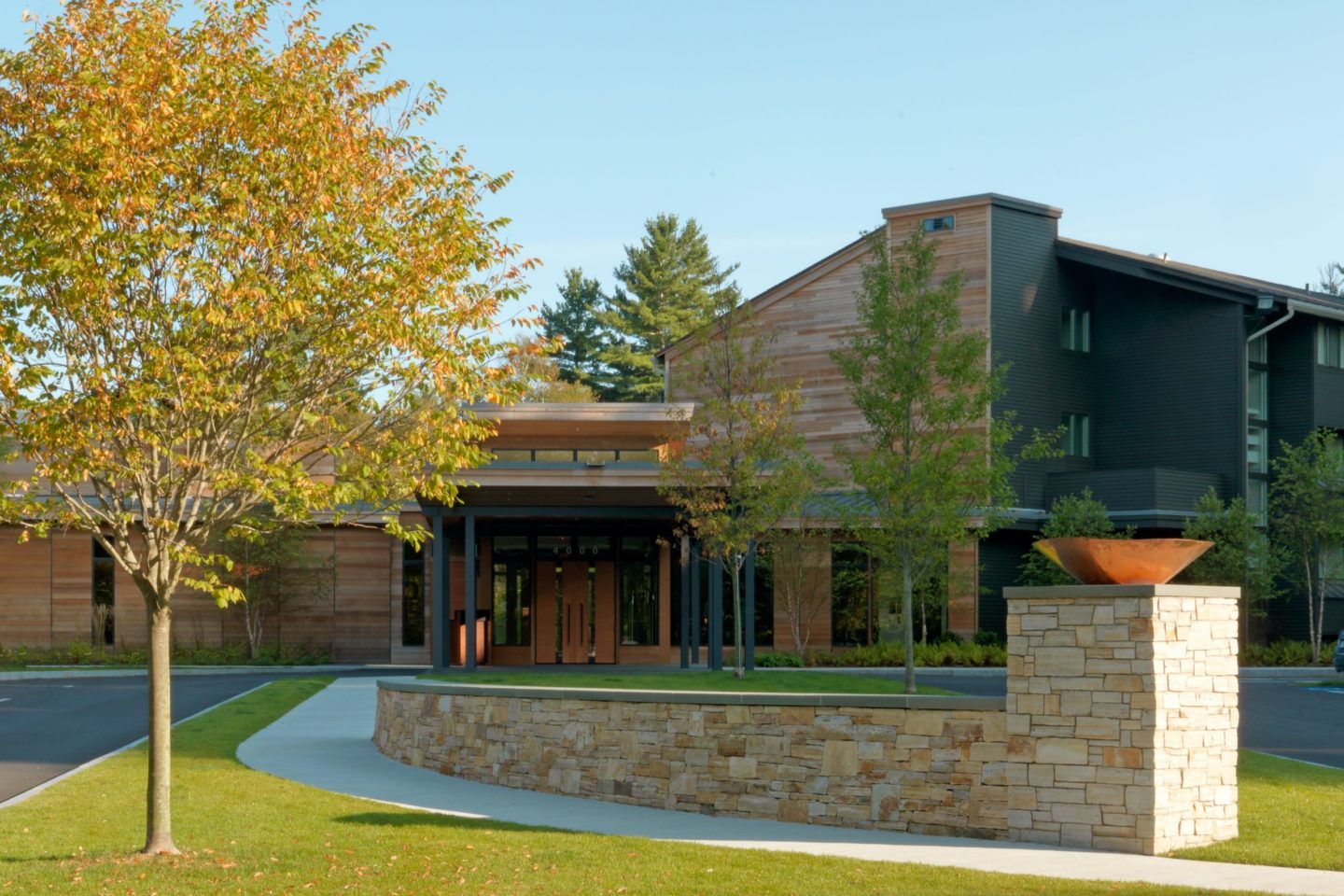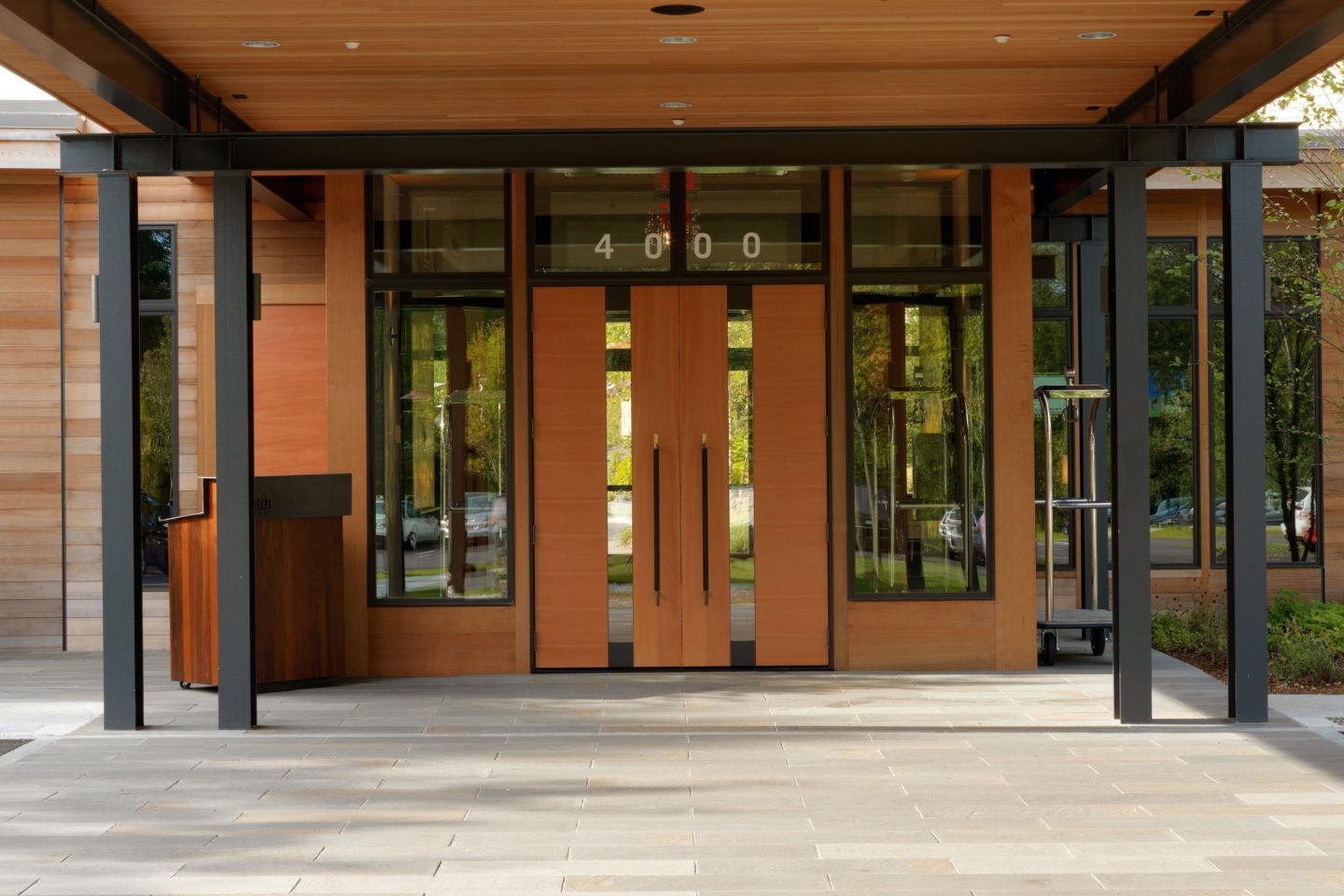 The expansive hardscapes of this project were challenging and consisted of both flat work and three different types of stone masonry walls. The main entrance hardscape which was able to handle vehicular traffic consisted of Bluestone which was laid on a bituminous concrete setting bed. This was done to provide stability for the heavily used space. The stone terraces surrounding the sides and back of the addition were built of dry laid dimensional full color Bluestone. We laid the Bluestone in a random pattern on a prepared base of compacted stone and stone dust. Most of the seat walls and landscape walls were built out of South Bay Quartzite. These were constructed off of poured concrete footings and were true masonry walls, yet had a dry stone wall appearance.
The second type of wall that was built was a purely veneered wall on a poured concrete form. Thin sawn stone veneer made from South Bay Quartzite was used with deep raked grouted joints for these walls.
The third type of wall we built was another thin sawn veneer called Seabed. This stone is actually an ancient coral and was used previously on the property. The architect chose to use this again to tie together both the new and the previously completed work. The Seabed veneer was laid with mortar on poured concrete walls. All three types of walls were capped with 3" thick bluestone, giving the stone walls a since of uniformity. Molithic thermalled Bluestone steps were integrated into the walls and terraces to act as transitions between spaces.
The fire pit which was to be built under the pergola had a poured concrete footing, and was first built with concrete blocks. We then installed the firebrick on the interior of the fire pit. The blocks were then veneered with South Bay Quartzite and capped with Bluestone to match the surrounding walls. Surrounding the fire pit was exposed aggregate concrete with large joints for creeping thyme to be planted throughout. Planting beds throughout the site consist of mixed trees, shrubs and perennials help to soften the crisp lines of the new structure and hardscapes. They add color and cozy up the individual spaces within the overall landscape.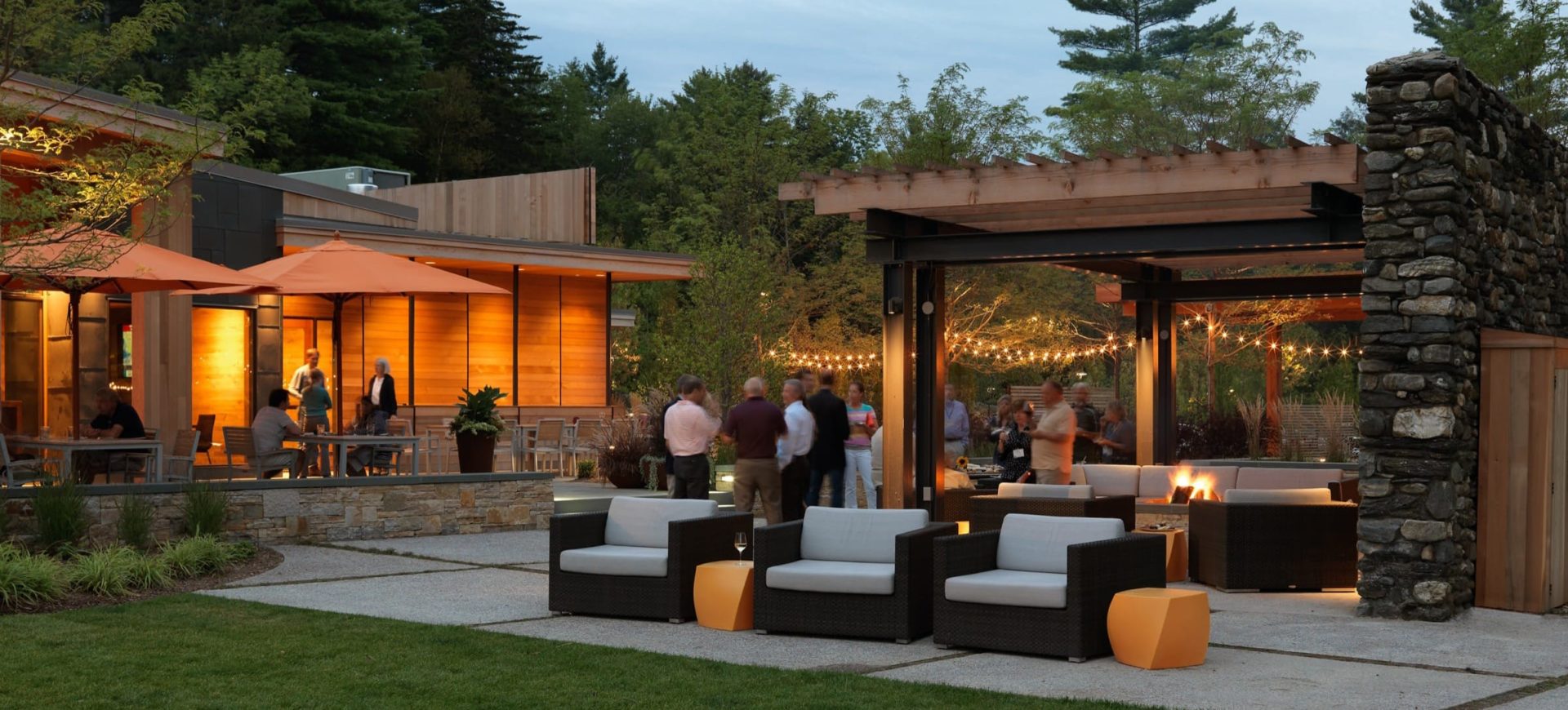 The pavilion was constructed for events and is situated on the edge of a stone dust courtyard and the wedding/event lawn. The stone dust courtyard is surrounded by steel edging and was compacted to provide a simple yet functional hardscape surface. Large trees were planted throughout the courtyard in a grid pattern to provide vertical structure and provide a canopy/shade for events. The expansive lawn area provides a greater gathering area to be utilized in unlimited ways.