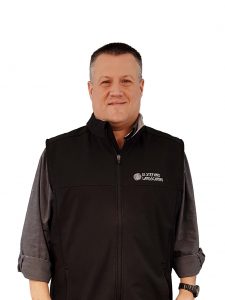 We think 2018 is going to be the best season yet for DiStefano Landscaping, in part due to our new Project Manager/Safety Director Paul Pierce. Paul comes to us with 27 years of site, civil, structural, and utility construction, with experience in site and wetland restoration as well as environmental construction. In Connecticut, he was the Project Manager of a $40 million project that was the largest wetland replication/restoration in the history of the state. A big part of that project was to replicate wetlands that had been disturbed by a recent highway construction project. So, it's pretty obvious that we are beyond excited to have him managing our projects here at DiStefano and working to make sure our crews are safe.
We sat down with Paul to talk a little bit about himself and what he's most looking forward to this season.
Where Are You From?
"I am originally from Cincinnati Ohio, having spent 12 years there, until my father relocated us to Holliston, Massachusetts, where I lived for about 20 years. I graduated high school there, and went to College at UMass Amherst, for Mathematics. I received my degree in Construction Management in 2014, finishing up online while traveling."
Tell Us A Little Bit About Yourself.
"I enjoy golf, baseball, softball, and volleyball."
What Is Your Role Here At DiStefano?
"My role here is Project Manager, overseeing the construction division here at diStefano, with a dual role as company Safety Director, in charge of making sure we are in compliance with OSHA and making sure everyone goes home safely every night!"
What are you most excited about for this season?
"I am most looking forward to a successful, profitable, and safe construction season, while helping to grow the business, foster existing relationships, and developing new ones for the company."
We're thrilled for this step forward in our company with Paul at the helm of safety and project management. If you see him around, be sure to say hello!